The qualities of Nationalism, patriotism, service and sacrifice among students, HKL senior secondary wing is trying to cater this demand of community by producing Doctors, Administrative Officers, Judges, Army Officers, Engineers and successful Businessmen who are in service of mankind within and outside the country making true to its motto- "COME TO LEARN & GO TO SERVE . The institution is presently running two courses 10+2 (non medical) 1 year programme and 10+2 (medical) 1 year programme. The institution boasts of brilliantly designed building and strong infrastructure. The institution provides the best of instructional facilities and laboratories to develop skills in the students. The library has best of instructional facilities which is well accomplished with different books. The institution has also taken the initiative to start the community services like NSS, Red Cross, and Red ribbon club. We do the best training and teaching with the help of our well qualified and experienced faculty.
Our mission :-HKL College of nursing (Sen. Sec. Wing) is committed to providing the students with the sound academic foundation and ensuring their over-all development as responsible global citizen in a stress-free and secure environment.HKL pledges to provide rich experience to the child and help them to develop good habit confidence positive attitude toward, life and logical minds in a harmonies environment with an aim at the all round development of the child – physical, social, emotional and intellectual.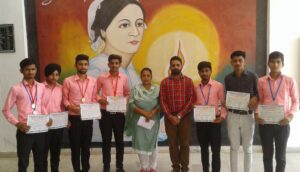 Philosophy: – Our educational philosophy is to look ahead with an aim to provide wholesome and quality education. The children are being thought to be independent and motivated to complete task at their own level. Our efforts are to create a environment where, noble thoughts come from every side to help the young ones to live in peace with themselves and with the world around. We encourage peoples for learn themselves. It involve teaching them the main skills to have the quality of decision making they need to conduct independent enquiry, to search new topics, to make connection between different subjects and to think for themselves , to be inquisitive to gain more knowledge.
Our objective: – Our aim and objective is to create a happy, caring and cooperative school community, with learning in all of its forms. Management, staffs and parents work together to develop capable, confident and tolerant members of society:-
1.)  We apply strong universal values to everything we do in school.
2.) Our core purpose is to provide high quality teaching and learning. Children learn in many different ways so we aim to teach them using many different styles. The teacher talks demonstrate listens, observe, guide, assess and discipline.
3.) We plan to make our curriculum relevant, creative and irresistible to children. The basic skills of reading, writing, numeracy and oral communication emphasize, within the context of wider and stimulating Curriculum.
4.) The involvement of parents and co-educated is done as they are the natural educations of their children.
5.) We aim to provide a safe and stimulating physical environment, in which our people can learn.
6.) We ensure that security is given a high priority.
7.) We believe in quality based education and here we are trying to create tuition free environment, where children get self capable and responsible for their own work.