Hakim Kishori Lal educational charitable has achieved another milestone with the establishment of HKL Public School in the year 2018, In its educational campus at Guru har sahai. HKL Public School has been establish to provide quality based education . A truly enabling environment to contribute to holistic development of each student. The school is Alive to the challenge of moulding students to be life long learners by developing their skills as academic achievers,progressive thinkers and empower citizens who think local but act global.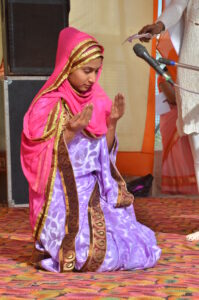 Objectives                                                     
1) The broad and balance school curriculum sets the direction,establishes the goals and implements ask strategy for   getting from where child is, to where he aspire to be .
2)Our efforts is to encourage all children to realize their true potential and seek educational challenges.
3)We consider the child's all around development,social,physical and emotional to be of utmost importance.
4)We stand committed to serve before self and prepare young learners to act in accordance with a personal philosophy that reflects concern for all.                                                                                                                                                                 Curriculum
Hkl public school is an English medium school and follows the CBSE syllabus. the curriculum has been evolved to achieve a balance between the emphasis accorded to academic and the importance of development of the body and mind.
Facilities
At HKL public school students are encourage to test theories,prove concept and validate hypothesis,the laboratory are well designed, airy and well –lit. A lot of thought has gone into making the labs safe for student use with wash area.
Computer Lab
The Computer Lab is equipped with an adequate number of computers with internet facility to train the students in basic computer applications. The students are trained by expert computer professionals accomplishments of the various disciplines.
Infrastructure Facilities
– Institution has excellent infrastructure as per the Indian Nursing Council norms.
– Well sitting facility
– Well ventilated and lighted class rooms.
– Every classes are equipped with audio – visual aids.
– A common auditorium.
– Well maintained Play grounds
Library
– Ample collections of International and National editions are available in the library.
– Well spacious and well ventilated.
– Separate sitting arrangement for faculty and students.
– Many journals including National and International editions.
– Internet facility.
– Facility of central digital library.
Hostels
– Separate hostels for boys and girls.
– Well furnished and spacious rooms.
– Good hygienic and nutritious mess food.
– Tight security and well discipline.
– Ragging of any sort of co-students is strictly prohibited and punishable as per Anti-Ragging Act of 1980 and is non-bailable offence. The original documents of the candidates found involved in ragging shall be endorsed for future act, which will prevent them from future studies anywhere in the world
– Students residing in the hostel are directed to follow the timings and rules and regulations Hostel Facilities:
– A Hostel Room with minimum 2 students are available.
– The furniture will be provided including a cot, a table, a chair, a book rack, a cupboard and a cloth rack for each student.
– Toilet and Bathroom Toilet and bathroom facilities are provided on each floor of the students hostel
– Geysers in bathroom and wash basins are be provided
– Recreation- There is facilities for indoor and outdoor games.
– There are provision for T.V., radio and video cassette player.
– Visitor's Room -There is a visitor room in the hostel with comfortable seating, lighting and toilet facilities
– Washing & Ironing Facility is provided
Transport Facility
– The Institute provides transport services regularly between campus and the city.
– Institute buses are available to the students and faculty members for commuting from various points in the city to the Institute.
Sports And Games
The organization provides adequate infrastructural support for all such student-activities which would provide them with physical fitness & personality development and cultivate in them sportsman spirit, team spirit, leadership and talent. There are in-campus activities like cricket, basketball, volleyball, football, track field, athletics and indoor games.
Wide participation of students is encouraged. Students are also encouraged to participate in inter-colleges, open, invitation and other external tournaments, sports meet, cultural and other competitions.
School is recognized under RTE Act 2009 wide number SSA ferozepur RTE/13363 dated 26 July 2018.